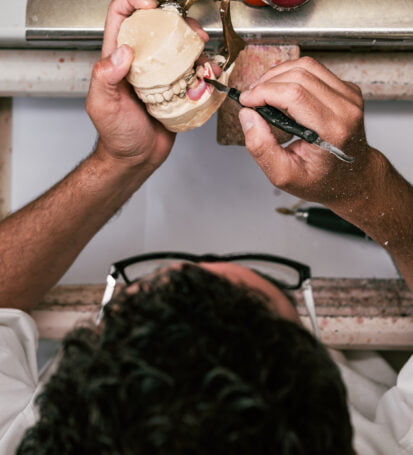 A dental prosthesis is a dental device that replaces a lost tooth or masks underlying flaws in the mouth. Implants, crowns, bridges, dentures, and veneers are all examples of such dental devices. If you think you might want a prosthesis, your dentist or prosthodontist will be able to advise you on the best.
What do Prosthetic Dentists Do
Implants
The name explains it all: Implants are a form of restorative dentistry that replace missing teeth with either one, several, or even an entire row of teeth. The root of the tooth is implanted into the jaw's bone like a tooth's crown and can be substituted by dental implants.
Crowns
A crown is a covering or part of a bridge that is placed over one damaged tooth or around one or more false teeth.
Bridges
Bridges are used to restore the natural look, strength, and function of your teeth's enamel or repair damage. They're cemented over the teeth and aren't removable.
Dentures
Partial dentures replace a few false teeth or complete dentures replace rows of false teeth.
Veneers
Veneers are thin shells that cover stained or chipped teeth to make them appear better.
How do you Choose Prosthetic Dentists in Brighton East
Dental implants may help many individuals who have missing teeth live a better quality of life. If you've decided to get dental implants, you'll want to be sure your oral health is in good hands. So, how do you pick the best implant dentist for you?
In order to provide tooth implant therapy, a dentist must first have received the appropriate training and experience. Dentists may have varying amounts of expertise in subjects like dental implants as a result of fast technological advances and adjustments in implant design, material, and treatment delivery.
The level of expertise and training a dentist has in implantology may differ. Only 9 percent of all general dental practitioners have received the required education to implant teeth.
You should conduct research similar to that which you would do before any other medical or surgical treatment. Learn about an implant dentist's background and training, ask questions concerning his or her operations, and speak with other implant patients if possible.
Why Choose Us
Hampton Dental Surgery is the dental practice to trust in Brighton East when it comes to prosthetic dentists. Our staff of Hampton Dental Surgery professionals at Brighton East are here to help you with any questions and provide the finest service possible for you and your family.
Call us or fill out the form below to schedule an appointment with one of our knowledgeable staff.