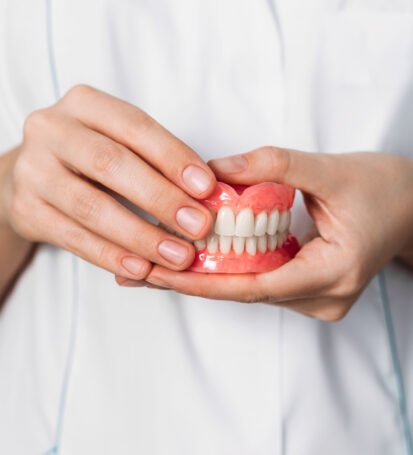 What do Prosthetic Dentists Do
Implants
The damaged tooth is extracted first, after which the implant is created. A hole is drilled into the jawbone after the root of a destroyed tooth has been removed.
A metal prosthetic root, also known as a post, is inserted deep into the bone. The crown will be attached to the top of the post only after the bone has formed around it and secured it in place.
It might take a few months for the post to be prepared with an abutment, which is the part on which the crown will be attached. Occasionally, when a post is implanted, the abutment is placed at the same time.
Crowns
A dental crown is a cosmetic cover for a tooth that is created to match the colour and shape of the original tooth. A natural tooth's structural integrity or decay might make it impossible to cover with a dental crown because of significant damage or decay, in which case an implant-supported crown can be utilised. First, the natural tooth must be extracted. Then, after the jawbone has been punctured and an implant screw inserted, an attachment piece, or abutment is attached. The abutment will stick out from the gumline and the gums will be stitched around it.
Bridges
A dental crown is a single cap that covers a damaged or decaying tooth, whereas a dental bridge is composed of two dental crowns joined by a false tooth or teeth. Dental bridges are able to heal neighbouring teeth that have decayed, fractured, or vanished at the same time due to their distinct structure. An implant-supported bridge is one in.
A dental crown, on the other hand, is a single cap that fits over a damaged or decaying tooth. A dental bridge, on the other hand, is made up of two dental crowns with a prosthetic tooth or teeth in between them. Dental bridges are able to restore adjacent teeth that are decayed, damaged, or missing at once.
Dentures
Denture prosthetics are removable prosthetic teeth that may be used regardless of the amount of bone in your mouth.
Denture replacements are utilised to restore the appearance of a patient's smile. Dentures can be complete sets that replace all or part of a patient's teeth on the upper or lower jaws, or they can be made to repair a few missing teeth. Partial dentures are one type of denture replacement.
Dental impressions are taken of the top or bottom gums, or both, to create dentures if all of the teeth need to be replaced.
How do you Choose Prosthetic Dentists in Hampton East
Finding a specialist with the right level of education, training, and expertise is critical for dental implant success. However, it's also crucial to find a dentist who pays attention to your demands and viewpoints and explains all of the options and treatments in terms that you can understand. This is more likely to result in finding a practitioner that you feel at ease with.
Why Choose Us
Our goal is to earn the trust and confidence of our patients. We wish to assure them that they have selected the ideal location, with the finest professionals, for their particular demands and concerns. Every patient should have peace of mind that we can meet his or her expectations, whether it's a single crown or a full-mouth restoration.
We've established a useful yet appealing workplace atmosphere to ensure that all of our patients feel welcome! Whether they are receiving the most up-to-date treatments or not, we want everyone who comes to our cutting-edge facility to feel welcome and at ease.
We welcome the opportunity to have a consultation with you. Our dentists in Hampton East will go through all of your tooth replacement choices so that you can make an educated decision.