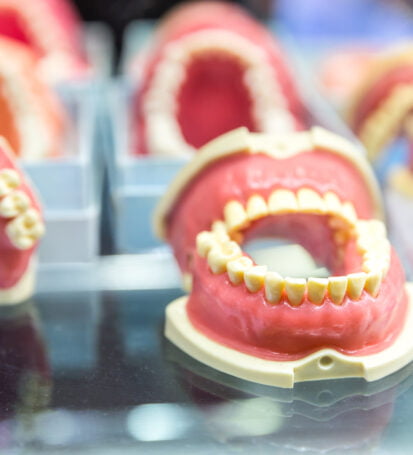 What do Prosthetic Dentists Do
Implants
Dental implants are a permanent substitute for missing teeth. Implants, which are surgically inserted in the jaw, serve as tooth roots and are made of strong titanium. Crowns then cover implants after they've bonded to the jaw bone.
If a full arch of teeth has to be replaced, your prosthodontist may urge you to wear dentures instead of missing teeth. This technique uses a varying number of implants to replace the upper or lower arch of teeth, generally without the need for bone transplantation.
Crowns
A prosthetic crown is used to cover or cap a tooth that has lost its form. It can restore the natural form of the teeth and may be applied only to the visible surfaces, from the gum line upward. A crown has a variety of applications. It is commonly utilised to repair a tooth's shape. A cosmetic solution for a discoloured or malformed tooth might be provided by the crown. It may also be used to cover a dental implant or support a dental bridge, ensuring that it stays in place.
Bridges
Bridges are a kind of fixed dentures that fill gaps in your teeth and are supported by crowns on both sides.
A bridge can be used to fill in spaces created by one or more teeth. Bridges generally provide beautiful cosmetic results. This is especially true if the bridge is constructed of ceramic materials. They may be designed to complement your natural teeth perfectly.
Dentures 
Denture replacement may be done for a complete set of teeth (full dentures) or one tooth at a time (partial dentures). Your prosthodontist will determine the appearance of your dentures and pick a shade that resembles your natural teeth.
Veneers
Veneers, also known as dental prosthetics, are shell-like dental prostheses composed of either porcelain or ceramic. They're designed to improve the size, shape, or colour of your teeth in a personal way for each person. Veneers are a form of dental restoration that involves attaching an artificial material, such as porcelain or crowns, to the front or facial surface of your teeth for strength and durability. Because veneers need to fit properly, they may provide you with the desired results. Veneers have the ability to make a huge difference without requiring it.
How do you Choose Prosthetic Dentists in Hampton
Dental implants can help to improve the quality of life for many persons who have lost their teeth. If you've decided to get dental implants, you'll want to make sure your oral health is in good hands, and that the time and money you intend to spend are well spent. So how do you go about selecting an implant dentist that is right?
Finding a dentist with the appropriate education, training, and experience is critical for dental implant success. However, it's also crucial to have a dentist who pays attention to your demands and views, as well as explains all of the choices and procedures in easy terms. This is more probable to lead you to a dentist with whom you can have confidence and trust. Finding an implant dentist that has the correct education, training, and expertise is critical for dental implant success. However, it's also crucial to find a dentist who listens to your demands and opinions, and understands all of your choices and procedures in plain language.
Why Choose Us
At our practice, we are qualified to handle all elements of your care, so you are always surrounded by skilled workers that you can rely on. We offer surgical and restorative treatments in a fully equipped dental laboratory, allowing for most of your operations to be done in one location and eliminating the need for you to travel across town for treatment. 
Hampton Dental Surgery offers basic dentistry as well as all of the dental services that most people and families require. Our skilled team is warm and makes going to the dentist pleasant.